Home Cleaning & Disinfecting Tips During the COVID-19 Outbreak
FRIDAY, MARCH 20, 2020
Keeping your family healthy during the spread of COVID-19 is a top concern for most people. With just a few changes to your normal cleaning routine, you can help keep your home healthy:
Clean & Disinfect High Touch Surfaces Daily
Think beyond just wiping down your countertops and tables to include daily cleaning of things like light switches, doorknobs, remotes, hard backed furniture, phones, appliance & cabinet handles, desks, toilets, and sinks. You'll want to cover any surface in your home that is frequently touched by multiple family members. If you share things like laptops, keyboards, or tablets, be sure to add them to the cleaning list.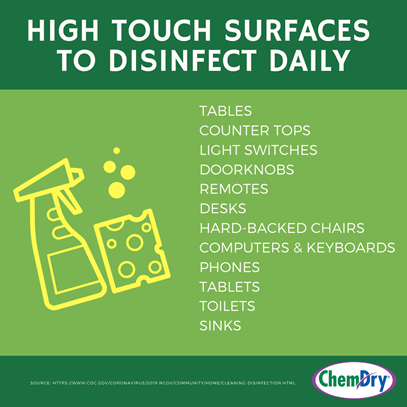 Use Proper Cleaning Techniques and Products
Cleaning to eliminate a virus takes more than just a wipe down with a wet cloth. For surfaces that are visibly dirty, you should first clean the dirt them with detergent or soap and water. Next you'll want to disinfect the surface using an effective cleaning solution. This includes most common EPA-registered household disinfectants, diluted household bleach solutions, and alcohol solutions with at least 70% alcohol. Once you spray the disinfectant, leave the surface wet for a few minutes before wiping away. Most cleaners have a time frame listed on the bottle, but many people neglect this step.
Wash Items that Can Go in the Laundry
Any item that can safely be laundered should be washed, especially if someone in your home is ill. In addition to clothing, this can include things such as rugs, bedding, towels, and pillows. Items should be washed in the warmest appropriate water setting according to the manufacturer's instructions and dried thoroughly. If someone in your home has contracted COVID-19, it's best to wear disposable gloves when handling any laundry they have had contact with and discard them after each use. You will also want to disinfect any clothes hampers that have contained clothing from an ill person, or consider using a disposable liner.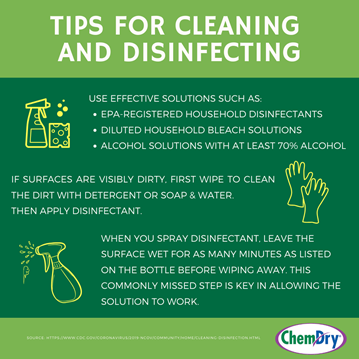 Isolate Ill Family Members
Plan ahead to dedicate a specific room and bathroom when space allows for any family members who become ill. You'll want to keep contact with the rest of the family as limited as possible. Unless the ill person is a child, you should also provide them with their own personal cleaning supplies to further limit caregiver exposure. If a separate bathroom is not available, be sure to clean & disinfect the area after each us by an ill person. It's best if the ill family member can do this cleaning themselves, but if that isn't possible a caregiver should wait as long as possible to clean and wear gloves.
Chem-Dry Can Help
Chem-Dry technicians are experts in cleaning surfaces in both residential and commercial environments. We are committed to providing you with superior solutions and services that you can trust to keep your home clean, safe, and healthy. Whether it's your home or business, you can be confident in our professional team of Healthy Home experts.
Chem-Dry offers an industry-leading cleaning package with our highest level of service to keep your home cleaner and healthier for your entire family.
HEALTHY HOME PACKAGE
· Deep Cleaning using our proprietary Hot Carbonating Extraction process and our green-certified, non-toxic solution, The Natural®
· Protectant application so carpets stay cleaner longer
· Hospital-grade Sanitizer application to eliminate viruses, bacteria and germs
Our proprietary Hot Carbonating Extraction (HCE) process removes 98% of common household allergens from carpets and upholstery and 89% of airborne bacteria when a sanitizer is added.*
Our hospital-grade sanitizer eliminates 99.99% of bacteria from the hard surfaces we clean on Tile & Stone, Hardwood Engineered Wood Floors, and Granite Countertops.*
*Based on results of studies conducted by independent laboratories of Chem-Dry's Hot Carbonating Extraction process. Allergens tested were dog and cat dander and dust mite allergen. All bacteria results include use of sanitizer. Figures are an average across multiple homes. Hard surface bacteria tests were based on independent lab testing associated with EPA registration #s 84683-3-74771 and 70385-6; sealed stone and VCT surfaces were evaluated and bacteria tested include salmonella, influenza and E. coli.
Source: https://www.cdc.gov/coronavirus/2019-ncov/community/home/cleaning-disinfection.html
BACK TO BLOGS